SENSATIONAL UNKNOWN FACTS FROM GEORGIAN DIPLOMACY OF 90-IES OF XVIII CENTURY
Mamuka Natsvaladze

Sokhumi State University, Tbilisi, Georgia
Keywords:
Erekle the Second, Agha Mohammad Khan, the Empire of Austria, the Russian Empire, the Kingdom of Kartli and Kakheti, Vienna
Abstract
The Italian translation of Erekle the Second's letter maintained in the archive of Vienna which was published in 1979 by Professor Ilia Tabaghua, reveals a sensational secret. In this letter we found a unique delf unveiling the fact that after the Krtsanisi tragedy suffered in 1795 Erekle the Second addressed Europe.
In the course of studies and analyses we came across several delfs in one document that had been considered to be one letter, namely, in the Italian translation of a letter by Erekle the Second; chronologically these delfs turned out to be significantly distant from one other. Further studies conducted on these delfs brought us to the conclusion that in 1795, after the Krtsanisi tragedy, Erekle the Second's ambassadors arrived to Vienna and handed the letter to the Emperor of Austria.
In the Italian translation of a document by Erekle the Second that had been considered by scientists to be one single letter and which is dated with 1782, the fragment saying that "in these days the king's residence in the East was totally destroyed" caused the first suspicion. 
We want to especially underline the circumstance that there is no evidence of destruction of any city or a town what could be considered to be the eastern residence of the king, found in the 80-s of the XVIII century. Therefore, there is only one way left – we should accept it that Erekle the Second is speaking about the fact of Agha Mohammad Khan destroying Tbilisi in 1795 – the tragedy that took place 13 years later. It is another fact that in 1782 Erekle the Second had no means to write about the events that would have taken place in 1795.
And thus, we have come to the conclusion that the Italian translation of the letter by Erekle the Second prepared by the chancellery of the Emperor of Austria based upon the letter sent by Erekle, is not a single letter but a compilation of at least two letters written by him. We should give due significance to the fact that the mentioned Italian translation does not contain any specific personalized addressee but is addressed to the Emperor of Austria, not revealing to which of the Emperors it addresses namely. The translation does not contain any concrete date either. 
The article provides review of the purposes and goals that the ambassadorial mission of late fall of 1795 sent by the king Erekle to the Emperor of Austria as well as other delfs of the above mentioned letter that cause suspicion and that unambiguously confirm it that certain fragments of the letter are written in 1795 which on its part implies confirmation of the fact that in the late fall of the year 1795 there had place a diplomatic communication between the Austrian Empire and the Kingdom of Kartli and Kakheti.
This latter fact abolishes the view that had been established in historiography up today that Erekle the Second unconventionally turned to Russia after Agha Mohammad Khan brought Tbilisi to earth in 1795.
References
Arneth 1869 - Joseph II und Katharina von Russland. Ihr Briefwechsel, hrsg. von Alfred, Ritter von Arneth, Wien,1869 s 446
Abrams Lynn 2010 – Abrams Lynn. Oral History Theory, London: Routledge, 2010. 224 p.
Berdzenishvili 1973 - Berdzenishvili, N. Death of Levan Batonishvili. Issues of Georgian history 6. Nikoloz Berdzenishvili.Tbilisi 1973. pp 452-474
Buleishvili 1987 – Buleishvili, M. Kartli-Kakheti Embassy to Russia in 1772-1774 headed by Catholicos Anton and Leon Batonishvili (Royal Prince). Issues of the History of Religion and Atheism in Georgia. USSR Science Academy of Georgia; Simon Janashia Museum of Georgia Tbilisi, 1987. p. 50-74
Brundage 2017 – Brundage Anthony. Going to the Sources: A Guide to Historical Research and Writing, 6th Edition. Wiley-Blackwell, 2017. 168 p.
Bloch 1952 - Bloch M., Apologie pour l'histoire ou métier d'historien. Librairie Armand Colin, Paris, 2 édition,1952, 112 pages.
Collingwood 1993 – Collingwood R. G., The Idea of History. Rev. ed., edited and with a new introduction by J. van der Dussen, Clarendon Press, Oxford, 1993. 510 p.
Damenia 2017 - Damenia m. Description of the first volume Archives of Propaganda Fide. Cadmus 9, 2017 195-211
De Grailly De Fois 1985 - De Grailly De Fois - About Georgia, translated from French, foreword, notes and tables and bibliography by JumberOdisheli, "Metsniereba" ("Science"), Tbilisi, 1985, p. 109
Doborjginidze 2013 - N. Doborjginidze, For Reconstruction of the Historical Memory, compilation of works: "Zurab Kiknadze-80", Tbilisi, 2013 pp 234-257
Doborjginidze 2019 - Doborjginidze N. European Projection of Erekle II and His Kingdom. Cultural traces of Georgians in Germany, Tbilisi, Ilia State University, 2019. p. 166-218
Gelashvili 2002 - Traveling Through Georgia. Jacob Reineggs; Translation from German, introduction and bibliography by Gia Gelashvili. "Artanuji" publishing, Tbilisi, 2002; p. 333
Gregory Ian, Ell Paul 2008 – Gregory Ian N., Ell Paul S. Historical GIS: Technologies, Methodologies, and Scholarship, Cambridge University Press, 2008. 240 p.
Guruli 2015 - Guruli V. Shady Enterprise of General Gottlob Tottleben in Georgia, My World, Foundation of Study of Strategies and International Relations of Georgia. Tbilisi, 2015, October. pp. 32-39.
Guruli 2013 A - Guruli V. Treaty of Georgievsk (1783) Tbilisi: "Universal", 2013. p. 56 Guruli 2013 B - Guruli, V. Treaty of Georgievsk: Under the "Protection" by the Empire: from the Very Beginning the Russian Empire Was Determined Not to Fulfill the Terms of the Agreement, "Istoriani": a historical-educational journal. Tbilisi, 2013. July, N7(31), pp. 17-22
Griffiths 2013 - Griffiths David М. Did Ekaterina the Great Have the «Greek Project" Ekaterina the Great and Her World: articles of various years. David Griffiths; М. :"Novoe Literaturnoe Obozrenie" 2013. pp 349-368
Hughes-Warrington 2007 – Hughes-Warrington M. Fifty Key Thinkers on History, London: Routledge, 2007, 480 p.
Ivonin 2007 - Ivonin Y. Wenzel Anton Kaunitz. History questions. 2007. No. 4. S. 27-50.
Iggers, Wang 2013 – Iggers George G., Wang Q. Edward (authors), Mukherjee Supriya (contributor). A Global History of Modern Historiography, Routledge, 2013. 448 p.
Iriye 2012 – Iriye A. Global and Transnational History: The Past, Present, and Future, New York: Palgrave Pivot. 2012. 96 p.
Jambakur-Orbeliani 2014 - Jambakur-Orbeliani, A. Lezgins Coming out of Dagestan and Other Stories, Al. Jambakur-Orbeliani, patronymic Vakhtang, published by Sargis Kakabadze according to the autograph protected in the Society Spreading Literacy. Tfilisi, 1914, p. 23
Kakabadze 1997 - Kakabadze S. History of Georgian People, 1783-1921. Tbilisi, Nekeri 1997. p. 276
Kalandia 2017 - King Erekle in the English and Irish Press, the information was collected, introduction and comments were provided by Giorgi Kalandia 2017 332 p
Kherkheulidze O. Reign of Erekle II. The text was prepared for publication with the research, dictionary and bibliography by Lela Mikiashvili. Tbilisi, Metsniereba, 1989. p.128
Kaldellis Anthony 2014 – Kaldellis Anthony. A New Herodotos. Laonikos Chalkokondyles on the Ottoman Empire, the Fall of Byzantium, and the Emergence of the West, Dumbarton Oaks, 2014. 324 p.
Koselleck 2004 – Koselleck Reinhart. Futures Past: On the Semantics of Historical Time, Columbia University Press, 2004. 336 p.
Koselleck 2002 – Koselleck R. The Practice of Conceptual History: Timing History, Spacing Concepts, Palo Alto: Stanford University Press, 2002, 384 p.
Lukacs John 2000 – Lukacs John. Student's Guide to the Study of History, ISI Books, 2000. 53 p.
Lobzhanidze 1989 - Lobzhanidze, G. A Study from the History of Legal Relations between Russia and Georgia: [The Legal Status of the Treaty of Georgievsk and Making Georgia a Non-sovereign State, Unilateral Violation of the Agreement by Russia] "Gantiadi". Kutaisi, 1989. N6, pp.232-237
Langlois, Seignobos 1992 - Charles-Victor Langlois, Charles Seignobos, Introduction aux études historiques. Editions Kimé, Paris, 1992, 284 p
Lambert, Schofield 2004 - Lambert P. and Schofield P. Making History: An introduction to the history and practices of a discipline. Routledge, 2004 - 310 pages
Macharadze 2013 - Macharadze, V. Three Treasures of the Treaty of Georgievsk: Scientific-Public Journal. Tbilisi, 2013. March, N1(7), pp. 100-137
Munro Doug, Reid John 2017 – Munro Doug, Reid John G. (eds.). Clio's Lives: Biographies And Autobiographies Of Historians, Acton: ANU Press, 2017. 330 p.
Metreveli 2018 - Metreveli, R. Agha Mohammad Khan's Ultimatum to King Erekle the II, Matsne = "Izvestia" = Proceedings / Georgian National Academy of Science. Tbilisi, 2018. N 2. The series of history, archeology, ethnology and the history of arts, pp. 88-97
Muskhelishvili 2012 - Muskhelishvili, D. Agha Mohammad Khan Attacking Georgia: The History of Georgia: From the Ancient Times to 2009 / D. Muskhelishvili, M. Samsonadze, A. Daushvili; editor: D. Muskhelishvili. Tbilisi, 2012. pp. 375-385
Monastyreva 2009 - Monastyreva L.Y. Kaunitz's reforms in the diplomatic service in Austria in the second half of the 18th century. Bulletin of the Smolensk State University. 2009. No. 4 (8). p 153-162.
Natsvaladze 2020a - Natsvaladze M. Unknown Details of the 1795 Ambassadorial Mission of Georgia to Europe 15th International Silk Road Virtual Conference. Book of Abstracts, October 09-10, 2020, Tbilisi, Georgia. 103 p
Natsvaladze 2020b - Natsvaladze M. Unknown sensational episodes of Irakli II's foreign policy. "Resonance" 08/31/2020, pp. 7-8
Natsvaladze 01.05.2017 - Natsvaladze M. Was Giorgi the Twelfth Poisoned as per the Order of the Emperor's Royal Court of Russia, "Rezonansi", May 1, 2017. p 15
Paichadze 1983 - Treaty of Georgievsk: 1783 Agreement on Eastern Georgia Entering Under Protection of Russia. the text was prepared for publication, the introduction and comments were provided by Giorgi Paichadze; Tbilisi : "Metsniereba", 1983, p. 150.
Papashvili 2003 - Papashvili, M. Treaty of Georgievsk, This is Georgia, author and editor Akaki Bregadze. Tbilisi, 2003. pp. 305-313
Peradze 2006 - Peradze V. From the History of Relations of Erekle the II with Austria, Historical Verticals. Tbilisi, 2006. N1(10), pp. 82-91
Potto 1891 - Potto, V. A. Georgia and Its Historical Past: (Russians Entering Tfilisi in 1783 – Agha Mohammad Khan). Translation by P. Karbelashvili [P. Tskhviloeli]. Iveria, 1891.-26 June, N133, pp.1-2
Quigley Carroll 1979 – Quigley Carroll. The evolution of civilizations. An introduction to historical analysis, Publisher: Liberty Fund Inc. ; 2nd edition (August 1, 1979). 428 pages
Raaflaub Kurt 2010 – Raaflaub Kurt A. (ed.) Thinking, Recording, and Writing History in the Ancient World, Wiley-Blackwell, 2010. 440 p.
Ragsdale 1988 - Ragsdale H. Evaluating the traditions of Russian agression: Catherine II and the Greek Project, Slavonic and East Europeen Review. L., 1988. Vol. 66. N 1; pp. 91-117
Samsonadze 1988 - Samsonadze M. The problem of the unification of Georgia and foreign orientation in the XVIII century. Tbilisi, Soviet Georgia, 1988 , p.318.
Shvelidze 2014 – Patronage and conquest of Georgia by Russia, Tbilisi, Meridiani, 2014. p. 154
Shvelidze 2012 - Shvelidze D. General Totleben in Georgia. Pro Georgia. Journal of Kartvelological studies.Center for east europiean studies- oriental institute-university of Warsaw. Warsaw T. 22, 2012. s. 107-117.
Tamarashvili 1902 – Tamarashvili M., History of Catholicism among Georgians with the introduction and explanations of real documents from the XIII century to the XX century. Tbilisi, published by the author, 1902, p. 844.
Tabaghua 1979 - Tabaghua I., Georgia at the International Arena in the Second Half of the XVIII Century, Tbilisi 1979 183 p
Tsintsadze 1960 - Tsintsadze I., Protective Treaty of 1783: Materials for the history of Russian-Georgian relations, Tbilisi, : Sabchota Sakartvelo, 1960 p. 304
Tsintsadze 1969 - Tsintsadze, I. Agha Mohammad Khan Attacking Georgia (1795). Tbilisi: "Sabchota Sakartvelo" publishing, 1969. P. 277.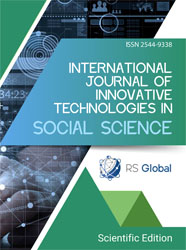 Citations
How to Cite
Mamuka Natsvaladze. (2020). SENSATIONAL UNKNOWN FACTS FROM GEORGIAN DIPLOMACY OF 90-IES OF XVIII CENTURY. International Journal of Innovative Technologies in Social Science, (7(28). https://doi.org/10.31435/rsglobal_ijitss/30122020/7291
Section
Original Research Articles
Copyright (c) 2020 Mamuka Natsvaladze
This work is licensed under a Creative Commons Attribution 4.0 International License.
All articles are published in open-access and licensed under a Creative Commons Attribution 4.0 International License (CC BY 4.0). Hence, authors retain copyright to the content of the articles.
CC BY 4.0 License allows content to be copied, adapted, displayed, distributed, re-published or otherwise re-used for any purpose including for adaptation and commercial use provided the content is attributed.
Share