THE INFLUENCE OF MODERN DANCE ON THE PHYSICAL HEALTH INDICATORS OF YOUNG ADOLESCENTS
Кholchenkova N. M.

postgraduate, T.H. Shevchenko National University «Chernihiv Colehium», Chernihiv, Ukraine
Keywords:
healthcare, modern dance, physical health, physical qualities
Abstract
The article describes modern dance as an effective means of healthcare of children and youth in the educational process, which contributes a lot to the formation of physical health. The influence of modern dance on the formation of such physical qualities as flexibility, strength, endurance, speed, agility and motor coordination is determined.
To diagnose the level of physical health formation for younger teens, school anxiety assessment of the somatic health level of schoolchildren aged 7-16 years (by Krutsevich , Apanasenko, 1999) was used. The results of processing the data obtained during the formative stage of experiment are presented in the paper. It was found that author's method of teaching modern dance was effective.
References
Harkusha, S. V. (2014). Formuvannia hotovnosti maibutnikh fakhivtsiv fizychnoho vykhovannia do vykorystannia zdorov'iazberezhuvalnykh tekhnolohii: teoretychnyi ta metodychnyi aspekty [Formation of readiness of future phisical culture specialists for using healthcare technologies: theoretical and methodical aspects]. Chernihiv. Vydavets Lozovyi V.
Nosko, M. O., Harkusha, S. V., Voiedilova O. M. (2014). Zdorov'yazberezhuvalʹni tekhnolohiyi u fizichnomu vikhovanni [Healthcare technologies of phisical culture] Kyiv. SPD Chalchynska N. V., 2014.
Shalapa, S. V., Demeschenko, V. V. (2017). Teoriia i metodyka vykladannia sportyvnoho tantsiu [Theory and methods of teaching sports dance]. Kyiv. SIK grup.
Melanie Bales and Karen Eliot (2013). Dance on its own terms: histories and methodologies. New-York: Oxford University press.
Bigus, O. O., Manshylin, V. V., Kondratyuk, D. O. and others (2017). Suchasnyi tanets. Osnovy teorii i praktyky [Modern dance. Fundamentals of theory and practice]. Kyiv. Vydavnytstvo Lira
Apanasenko, G. L., Popova, L. A. Medychna valeolohiya [Medical valeology]. Kyiv. Zdorov'ya.
Krutsevich, T.U. (2011). Kontrolʹ u fizichnomu vikhovanni ditey, pidlitkiv y molodi [Control in the physical education of children, adolescents and young people]. Kyiv: Olimpiysʹka literatura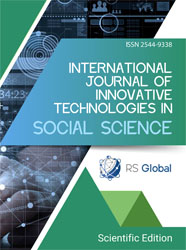 Citations
How to Cite
Кholchenkova N. M. (2020). THE INFLUENCE OF MODERN DANCE ON THE PHYSICAL HEALTH INDICATORS OF YOUNG ADOLESCENTS. International Journal of Innovative Technologies in Social Science, (7(28). https://doi.org/10.31435/rsglobal_ijitss/30122020/7301
Section
Original Research Articles
Copyright (c) 2020 Кholchenkova N. M.
This work is licensed under a Creative Commons Attribution 4.0 International License.
All articles are published in open-access and licensed under a Creative Commons Attribution 4.0 International License (CC BY 4.0). Hence, authors retain copyright to the content of the articles.
CC BY 4.0 License allows content to be copied, adapted, displayed, distributed, re-published or otherwise re-used for any purpose including for adaptation and commercial use provided the content is attributed.
Share