LITERARY ENVIRONMENT OF BAKU – ABSHERON AT THE END OF XIX AND BEGINNING OF THE XX CENTURY
Sabina Akhmedova

Senior Researcher, Institute of Manuscripts of ANAS, Department of Persian Manuscripts, Azerbaijan
Keywords:
Absheron, literary environment, verses, elegy, ode, classics
Abstract
Baku-Absheron has been famous as the land of poetry, mugham and art from the ancient times. Names of many representatives such as science, literature, music and art, born and grew up on the Absheron Peninsula bringing fame not only to our country, but also to the every corner of the world.
Without any words, culture − was clearly presented in Baku, which has been built as the great city. But poetry and art was one of the great means not only in all Azerbaijan, in Baku and its villages also, people not only in literary Mejlis, but in the family parties : when the guests comes , around the table, at weddings, in educational institutions and in other places, for enjoying soul, for sharing sorrows, for hearty enjoying, and for respecting each-other they read poems. People of Baku and Absheron mostly loved ghazelles, listened with great love and enjoyed from gazelles, which performed by the mugham singers. For this reason, almost, all poets, who grew up in the literary environment of Baku and Absheron based their creativity mainly on gazelles, but at the same time they also wrote odes, couplets, and elegies.
References
Aydin Hajiyev. "Azerbaijan Soviet child's prose". Publishing House "Maarif", Baku-1989. p.195.
"History of Azerbaijan". Publishing House of ANAS. (SSR). Baku-1958. 444 p.
"Dar Madhi-Musliman" - "Institute of Manuscripts" after the name Mohammad Fuzuli of the Azerbaijan National Academy of Sciences. "Science and Education" Baku-2017. p.60.
Mashadi Azer. "Selected Works" "Boz Oghuz" - "Nijat" Publishing house. Baku-1996. 280 p.
"Word which was said - is memory." Baku-Writer-1987. Compiled by Jafar Ramzi Ismayilzade. p.300.
Mamedaliev V. M. Value of the book "Tajvid" by Abdulkhali Kafarzade (Janneti) for the comparative exploring the orthographies of Arabic, Persian and Azerbaijani languages. Proceedings of the All-Union Scientific Conference "Problems of Iranian Philology" Baku: AQU, 1979. p. 23-24 (68).
Vugar Akhmad. Literary-scientific Portraits. Baku, "Afpoligraf", 2017, p.211.
Vugar Ahmad "Azerbaijan Children's Literature" "Teacher" publishing house. Baku-2006. p.276.
Sona Khayal. "A look to history ... and on the occasion for annual activity of Mejlis" "Gunay" newspaper. December 23, 1995.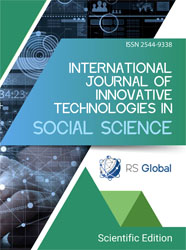 Citations
How to Cite
Sabina Akhmedova. (2020). LITERARY ENVIRONMENT OF BAKU – ABSHERON AT THE END OF XIX AND BEGINNING OF THE XX CENTURY. International Journal of Innovative Technologies in Social Science, (6(27). https://doi.org/10.31435/rsglobal_ijitss/30092020/7192
Section
Original Research Articles
Copyright (c) 2020 Sabina Akhmedova
This work is licensed under a Creative Commons Attribution 4.0 International License.
All articles are published in open-access and licensed under a Creative Commons Attribution 4.0 International License (CC BY 4.0). Hence, authors retain copyright to the content of the articles.
CC BY 4.0 License allows content to be copied, adapted, displayed, distributed, re-published or otherwise re-used for any purpose including for adaptation and commercial use provided the content is attributed.
Share