USING SYNTACTIC UNITS IN THE LANGUAGE OF FILM ACTORS
Mustafayev Fizuli Najmaddin

Associate Professor, PhD in Philology, Leading researcher of the Department of Applied Linguistics, Azerbaijan National Academy of Science, Institute of Linguistics named after Nasimi, Azerbaijan
Keywords:
film actors, syntactic units, shooting locations, oral speech, artistic style
Abstract
The article is devoted to the use of syntactic units in the language of film actors. The article draws attention to various ideas and considerations regarding the use of syntactic units in all areas of the cinematic language. The reader is presented about themes, genres, style problems in Azerbaijani cinema, screen artists, large-format publishing, a variety of styles in the director's work, various problems of cinema and theater poetry, the history of television poetry and style. The differences in some cases between the written language and its oral form, innovation, accent, facial expressions and gestures of the actors by the setting of the pavilion and the fact that the dramatic point of view of the film is conveyed to the reader only by word. Since thought is known in dialogical speech, the narrative of some members of a sentence, complex sentences requiring details are omitted. The film pavilion, structure, actor's movements, images form the basis of the article. Readers can extract information from all this, especially since directors and actors choose syntactic units that are more suitable for spoken language. The article also provides tips from individual films and presents ideas for any explanation.
References
Abdullayev A. Subordinate complex sentences in modern Azerbaijani language. Baku. Publishing House "Maarif", 1974.
Akhundov A. Phonetic system of the Azerbaijani language. Baku. 1973
Efendizade A. On the Azerbaijani literary pronunciation. Baku. 1969.
Efendizade A. Orthoepy of the Azerbaijani language (candidate's dissertation). Baku. 1954.
Efendiyeva T. Lexical style of the Azerbaijani language. Baku. 1980.
Aksenov V. Skill of the artistic word. Moscow. 1954.
Baboskin B. In the theater and cinema. Moscow. 1968.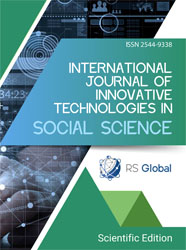 Citations
How to Cite
Mustafayev Fizuli Najmaddin. (2020). USING SYNTACTIC UNITS IN THE LANGUAGE OF FILM ACTORS. International Journal of Innovative Technologies in Social Science, (7(28). https://doi.org/10.31435/rsglobal_ijitss/30122020/7239
Section
Original Research Articles
Copyright (c) 2020 Mustafayev Fizuli Najmaddin
This work is licensed under a Creative Commons Attribution 4.0 International License.
All articles are published in open-access and licensed under a Creative Commons Attribution 4.0 International License (CC BY 4.0). Hence, authors retain copyright to the content of the articles.
CC BY 4.0 License allows content to be copied, adapted, displayed, distributed, re-published or otherwise re-used for any purpose including for adaptation and commercial use provided the content is attributed.
Share