ANALYSIS OF THE MODERN STATE OF SPORT NUTRITION DEVELOPMENT IN THE WORLD AND UKRAINE
Alla Nemchenko

Candidate of Economic Sciences, Doctor of Pharmaceutical Sciences, Professor of Department of Organization and Economics of Pharmacy, National University of Pharmacy, Kharkiv, Ukraine

https://orcid.org/0000-0003-1601-8881

Viktoriia Mishchenko

Candidate of Pharmaceutical Sciences, Assistant Chair of Department Organization and Economics of Pharmacy, National University of Pharmacy, Kharkiv, Ukraine

https://orcid.org/0000-0002-8293-0978

Olena Vynnyk

Candidate of Pharmaceutical Sciences, Associate Professor of Department Organization and Economics of Pharmacy, National University of Pharmacy, Kharkiv, Ukraine

https://orcid.org/0000-0001-5833-9240
Keywords:
sports nutrition, assortment, analysis, health promotion
Abstract
Today, such a segment of the market as sports nutrition (SN) is dynamically developing due to the active growth of interest in sports among the population (the average annual growth of the global SN market in the next five years will be from 8.1% to 11.0%), which is why the analysis the current state of SN development in the world and Ukraine is a pressing issue. There are 62.2 million citizens in Europe today, including 1.2 million Ukrainians. Currently, the global SN market is actively developing and valued at more than $ 10 billion, and domestic at $ 90 million. US dollars. Currently, a pharmacy network of online stores "Med-magazin.ua" Your Health and Beauty "is being developed in Ukraine, which together with preventive products offers SN. In the assortment of the network the dependency is established: foreign brands predominate - Weider (USA / Germany, 14,8%), Kevin Levrone (Poland, 13,8%), Optimum Nutrition (USA, 7,6%). Unfortunately, only 10.0% of the analysed products are manufactured in Ukraine (Levobol, Fitness Factor). The majority of SN is dry powder mixtures (65%); the predominant weight of SN is 0.500 kg (18%); dominated by taste: vanilla (17%), chocolate and strawberries (12% each); by designation proteins (62%) and fat burners (19%) are preferred. Currently, many scientists are paying close attention to the problems of analysing the feasibility and physiological importance of using SN products in the diets of both athletes and consumers seeking to lead an active, energetic and healthy lifestyle, so that monitoring of SN status in the world and in different countries is a pressing issue today.
References
Aranson, M. V, Portuguese C. H. (2013). "Sports nutrition: state of the art and current problems", Biomedical problems of sports, 4, 33-37.
Gorchakova, N. A, Gudivok, Ya. S, Gunina, L. M. (2010). Pharmacology of sports. Kiev: Olympic literature.
Sabanchuk, V. B, Nerutsa, L. V. (2016). Contemporary Problems of Forming the Sports Nutrition Market in Ukraine: Proceedings of the IV All-Ukrainian Conference of Students, Graduate Students and Young Scientists "Modern Problems of Food Industry Development: Theory and Practice".
Levchenko, O. K. (2010). How to eat before the start? Trading business, 8, 46-49.
Nikityuk, D. B. Novoshkanov, A. L, Abrosimova, S. V. (2012). The mineral composition of carbohydrate-electrolyte drinks, vitamin-mineral complexes and biologically active 77 supplements for athletes. Nutrition issues, 81 (4), 71-76.
What does the internal cuisine of the sports nutrition market in the world and Ukraine look like? Sports & Nutrition (2019). Retrieved from http://project.liga.net/projects/sports_nutrition
Europe Active and Deloitte publish European Health & Fitness Market Report 2018. (2019). Retrieved from https://www.europeactive.eu/blog/europeactive-and-deloitte-publish-european-health-fitness-market-report-2018
Sports nutrition in Ukraine. GMID: Global Market Information Database (Euromonitor International) from 09/01/2016 (2019). Retrieved from http://www.euromonitor.com/sports-nutrition-in-ukraine/report
Market research of fitness services of Ukraine. Fitnessconnect. (2019). Retrieved from https://old.fitnessconnect.com.ua/plugins/content/pdf_embed/assets/viewer/pdfjs/web/viewer.html?file=%2Ffiles%2F2019.pdf
Prytulska, N. V, Antyushko, D. P, Motuzka, U. M. (2012). Current Trends in Sports Nutrition Market Food Science and Technology, 1 (18), 49-52.
Prytulskaya, N., Khrobatenko, O., Bondarenko, E. (2011). On the problem of food classification for athletes. Goods and markets, 2, 112-121.
Scientific committee on food. Report of the Scientific Committee on Food on the composition and specification of food intended to meet the expenditure of intense muscular effort, especially for sportsmen (2001). Retrieved from https://ec.europa.eu/food/sites/food/files/safety/docs/sci-com_scf_out64_en.pdf.
Panfilova, H., et al. (2019). Scientific measurement of the current role of pharmacist in the paradigm of pharmaceutical care development. Research Journal of Pharmacy and Technology, 12 (2), 817-826.
On Amendments to the List of Goods Authorized to Purchase and Sell Pharmacy Establishments and Their Structural Units: Order of the Ministry of Health of Ukraine dated 23.11.2015 No. 764. https://zakon.rada.gov.ua/laws/main/z1532-15
Miklashevskaya, Yu., Khrobatenko, O. (2012). Legislative regulation of food production and circulation for athletes. Goods and markets, 2, 39-47.
Med-magazin.ua. Your health and beauty. (2020). Retrieved from https://med-magazin.ua/ua/contacts/kharkov/#o32
Pashchenko, V. G, Senogonov, L. I, Stanovikhin, A. U. (2010). Analysis of food assortment for athletes. Food production technologies and equipment, 6, 39-42.
Smith, A., Giffin, N. (2012). Sport Nutrition: report highlights. Medicine & Science in Sports & Exersise, 44 (1), 69-74.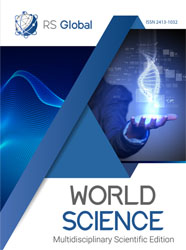 Citations
How to Cite
Alla Nemchenko, Viktoriia Mishchenko, & Olena Vynnyk. (2020). ANALYSIS OF THE MODERN STATE OF SPORT NUTRITION DEVELOPMENT IN THE WORLD AND UKRAINE. World Science, (7(59). https://doi.org/10.31435/rsglobal_ws/30092020/7206
Copyright (c) 2020 The authors
This work is licensed under a Creative Commons Attribution 4.0 International License.
All articles are published in open-access and licensed under a Creative Commons Attribution 4.0 International License (CC BY 4.0). Hence, authors retain copyright to the content of the articles.
CC BY 4.0 License allows content to be copied, adapted, displayed, distributed, re-published or otherwise re-used for any purpose including for adaptation and commercial use provided the content is attributed.
Share