VERTICAL FARMS
Veselin Rangelov

University of Forestry, Sofia, Bulgaria

Daniela Staykova

University of Forestry, Sofia, Bulgaria
Keywords:
city, agriculture, landscape, sustainability, resources
Abstract
The urbanized population is increasing year by year, leaving fewer and fewer inhabitants in the province. This inevitably leads to increased energy and resource consumption, leading to environmental problems. All this, combined with climate change, calls for a more holistic approach to the provision of raw materials and resources in future cities, both in the main aspects of sustainable development, social, environmental and economic. From this point of view, vertical farms can be an instrument that addresses these aspects.
References
Murhov, G. 2019. Architects in the struggle for urban agriculture. Retrieved from https://stroiinfo.com/arhitektite-v-borba-za-gradsko-zemedelie/.
Petrova, P., Ivanova, I., Georgiev, G. Sustainable Development and governance. Beta-Varna. 2009.
Thomas A. M. Pugh; A. Robert MacKenzie; J. Duncan Whyatt; C. Nicholas Hewitt (2012). "The effectiveness of green infrastructure for improvement of air quality in urban street canyons". Environmental Science & Technology. 46 (14): 7692 – 7699. DOI: 10.1021/es300826w.
Rangelov, C., Mihaylov, T. Landscape Architecture in future cities. IX INTERNATIONAL SCIENTIFIC CONFERENCE ON ARCHITECTURE and CONSTRUCTION ArCivE 2019 31 May-02 June, Varna, Bulgaria.
Malkovska, P., Dragozova, E. 2018. ALTERNATIVES FOR DEVELOPMENT IN GREEN INFRASTRUCTURE PROJECTS. The Journal of Interna-tional Scientific Publications. Ecology & Safety, ISSN 1314-7234, Volume 12, 2018, p. 341.
Asparuhov, C., Rangelov, C., Shahanov, C. 2016. Indoctrination in the preservation of industrial architecture and landscape in Bulgaria. International scientific Conference "BANI" 2016, Higher Construction School "Lyuben Karavelov", Sofia, Bulgaria, 2016.
Kuneva TZ., A. Kovatchev (2011). The technologies for landscaping of buildings in the context of the normative basis for spatial planning of the Territories in Bulgaria. Collection of reports from the Jubilee Scientific Conference "60 years of Landscape architecture", Sesjani, Sofia, Bulgaria. Page 72-75.
Retrieved from https://www.newhope.com/news/55-can-robotics-make-vertical-ag-profitable-how-us-agriculture-exploits-farmworkers.
GLOBAL VERTICAL FARMING MARKET -SIZE, GROWTH, TRENDS, AND FORECAST (2020 - 2025) https://www.mordorintelligence.com/industry-reports/vertical-farming-market.
Retrieved from https://www.mintradefer.gov.tm/index.php/en/international-trade/899-dubai-will-build-the-largest-vertical-farm-in-the-world
Retrieved from https://cropone.ag/technology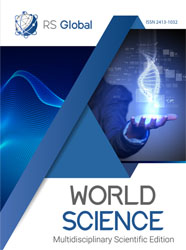 Citations
How to Cite
Veselin Rangelov, & Daniela Staykova. (2020). VERTICAL FARMS. World Science, (7(59). https://doi.org/10.31435/rsglobal_ws/30092020/7181
Section
Architecture and Construction
All articles are published in open-access and licensed under a Creative Commons Attribution 4.0 International License (CC BY 4.0). Hence, authors retain copyright to the content of the articles.
CC BY 4.0 License allows content to be copied, adapted, displayed, distributed, re-published or otherwise re-used for any purpose including for adaptation and commercial use provided the content is attributed.
Share