PROBLEMS OF RADIO AND SOLUTIONS
Dadenova Gulxan

Tashkent University of Informational Technologies

Maxammadjonov Maxammadjon Alisher o'g'li

Tashkent University of Informational Technologies
Keywords:
radio, problem, solution, interference, network, FM, AM
Abstract
From what has gone before, it is clear that the radio industry is complex. No one is completely satisfied with the way it produces programs or with its relations to the government. Its difficulties grow out of the fact that it has more than one function. It renders a definite public service by communicating, recording, and reporting news, ideas, and events for the public. But also, as an advertising medium for some dozens of industries, it operates to make profits for those industries and for itself.
Radio stations resemble newspapers in that both report . news and both serve as platforms for the spreading of views and the debate of public issues. The similarity naturally brings up the question of freedom of the press as it applies-or should apply-to radio. The traditional mistrust of government control of or influence over the press is the foremost problem.
Can the radio string together quarter-hours of music, comedy, commentary, and advertising gems without violating listener sensibilities and tastes? Can the station owner and the network say to the advertisers who foot their bills: "This kind of plug, yes, and that kind, no. So much time for ads and no more"? Now we can answer this. In this article we will say about radio problems and solutions.
References
Erik Larson "Paperbak" 2007
Beyond Powerful Radio. Valerie Geller 2011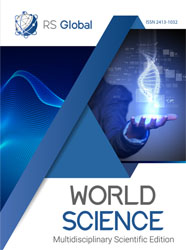 Citations
How to Cite
Dadenova Gulxan, & Maxammadjonov Maxammadjon Alisher o'g'li. (2016). PROBLEMS OF RADIO AND SOLUTIONS. World Science, 1(2(6), 82-84. Retrieved from https://rsglobal.pl/index.php/ws/article/view/853
Copyright (c) 2016 Authors
This work is licensed under a Creative Commons Attribution 4.0 International License.
All articles are published in open-access and licensed under a Creative Commons Attribution 4.0 International License (CC BY 4.0). Hence, authors retain copyright to the content of the articles.
CC BY 4.0 License allows content to be copied, adapted, displayed, distributed, re-published or otherwise re-used for any purpose including for adaptation and commercial use provided the content is attributed.