ANDRAGOGICAL CONCEPT OF THE DEVELOPMENT OF INFORMATION AND COMMUNICATION COMPETENCE OF TEACHERS IN INSTITUTIONS OF POSTGRADUATE TEACHER EDUCATION
Vira Humeniuk

PhD in Pedagogical Sciences, associate professor, Head of Department of Management and Educational Technologies, Khmelnitsky Regional Institute of Postgraduate Teacher Education, Ukraine, Khmelnitsky

Oleksandra Solohub

Graduate student, Senior lecturer of Department of Theory and Methods of Natural Mathematical Disciplines and Technologies, Khmelnitsky Regional Institute of Postgraduate Teacher Education, Ukraine, Khmelnitsky
Keywords:
andragogy, andragogical support, teacher, Institute of Postgraduate Teacher Education, information and communication competence, diversification
Abstract
The article discusses the issues of andragogical support for the development of information and communication competence of teachers in institutions of postgraduate Pedagogical education. The authors analyze the current socio-educational situation; emphasize the importance of continuing education and the development of andragogical competence of employees of postgraduate education institutes. The attention is focused on the diversification of the types of advanced training of pedagogical and scientific-pedagogical workers, which necessitates the modernization of content, forms, technologies in the system of postgraduate education, in particular the development of information and communication competence of pedagogical workers. The basic andragogical principles, the functions of the teacher-andragog, the methods of the andragogical approach to creating special conditions for the interaction of teachers and students are substantiated. Based on theoretical and empirical research, the state of this problem is analyzed on the example of the development of information and communication competence of methodologists of regional methodological services.
References
Incheon Declaration: Education 2030: Towards inclusive and equitable quality education and lifelong learning for all. Retrieved from https://unesdoc.unesco.org/ark:/48223/pf0000233813
Prometheus: a platform of mass open online courses. Retrieved from https://prometheus.org.ua/
Redecker, Ch., Punie Y. (2017). European Framework for the Digital Competence of Educators: DigCompEdu. Publications Office of the European Union. Retrieved from https://publications.europa.eu/en/publication-detail/publication/fcc33b68-d581-11e7-a5b9-01aa75ed71a1/language-en
Towards a Reskilling Revolution. A Future of Jobs for All: Insight Report. World Economic Forum. Geneva. 2018 Jan.
Андрагогическая компетентность педагога: практические советы. Под науч. ред. С.Г.Вершловского, А. Н. Шевелева. Санкт-Петербург: СПбАППО, 2013. 136 с.
Гуменюк В.В. Андрагогічні особливості розвитку професіоналізму та компетентності керівника загальноосвітнього навчального закладу. Професійне самовдосконалення керівників загальноосвітніх навчальних закладів: Збірник наукових праць. За заг. ред. В.В.Гуменюк. Хмельницький: ХОІППО, 2015. 54-56. с. 54.
Деякі питання підвищення кваліфікації педагогічних і науково-педагогічних працівників: Постанова Кабінету Міністрів України від 21.08.2019 № 800. Урядовий кур'єр. 03.09.2019. № 167.
Кукуев А.И. Андрагогический поход в педагогике. Ростов-на-Дону: ИПО ПИ ЮФУ. 2009. С. 125.
Сологуб О.С. Модель розвитку інформаційно-комунікаційної компетентності методистів регіональних служб у процесі підвищення кваліфікації [Електронний ресурс]. Електронне наукове фахове видання «Адаптивне управління: теорія і практика». Серія «Педагогіка» Вип. 5 (9), 2018. URL: https://amtp.org.ua/index.php/journal/article/view/30/22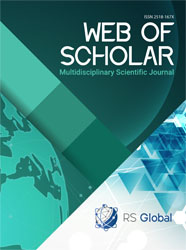 Citations
How to Cite
Vira Humeniuk, & Oleksandra Solohub. (2020). ANDRAGOGICAL CONCEPT OF THE DEVELOPMENT OF INFORMATION AND COMMUNICATION COMPETENCE OF TEACHERS IN INSTITUTIONS OF POSTGRADUATE TEACHER EDUCATION. International Academy Journal Web of Scholar, (3(45), 42-45. https://doi.org/10.31435/rsglobal_wos/31032020/7007
Copyright (c) 2020 The authors
This work is licensed under a Creative Commons Attribution 4.0 International License.
All articles are published in open-access and licensed under a Creative Commons Attribution 4.0 International License (CC BY 4.0). Hence, authors retain copyright to the content of the articles.
CC BY 4.0 License allows content to be copied, adapted, displayed, distributed, re-published or otherwise re-used for any purpose including for adaptation and commercial use provided the content is attributed.
Share