ВИЗНАЧЕННЯ ГЕНЕТИЧНОГО ПОЛІМОРФІЗМУ CYP2C9 НА ТЛІ ПРИЗНАЧЕННЯ ВАРФАРИНУ У ПАЦІЄНТІВ НА ІШЕМІЧНУ ХВОРОБУ СЕРЦЯ, УСКЛАДНЕНУ ПОСТІЙНОЮ ФОРМОЮ ФІБРИЛЯЦІЇ ПЕРЕДСЕРДЬ
Панібратюк Ольга Анатоліївна

Україна, Вінниця, Вінницький національний медичний університет ім. М.І. Пирогова

Яковлева Ольга Олександрівна

Професор, Україна, Вінниця, Вінницький національний медичний університет ім. М.І. Пирогова
Keywords:
warfarin, genetic polymorphism CYP2C9, Arg144Cys, slow metabolites
Abstract
This article describes the results of a genetic study of the spread of CYP2C9 polymorphic variants in patients in the Podilskyi region of Ukraine. In different ethnic groups, the frequency of cytochrome polymorphic isoenzymes can vary significantly. The presence of genetic mutations of this cytochrome (Arg144Cys, Ile359Leu) is associated with an increased concentration of warfarin in the blood, which can lead to excessive hypocoagulation and risk of bleeding. Particular attention should be paid to patients with a detected mutation in homozygous form, as both alleles of the gene are mutant (their carriers are "slow metabolizers" and therefore require more careful dose selection). Patients are advised to undergo individual genotyping, which will help to predict the risk of each individual patient.
References
Owen Ryan P., Gong Li, Sagreiya Hersh, Klein Teri E., Altman Russ B. VKORC1 Pharmaco genomics Summary. Pharmacogenet Genomics. 2010; 20 (10): 642-44.
Зотова И.В., Никитин А.Г., Фаттахова Э.Н., Бровкин А.Н., Ходырев Д.С., Лаврикова Е.Ю.,... Затейщиков Д.А. Влияние полиморфизма генов CYP2C9 и VKORC1 на безопасность терапии варфарином. Клиническая практика No4, 2013. С 3- 10
Сычев Д.А., Игнатьев И.В., Стасяк Е.В., Бутылова Ю.М., Раменская Г.В., Кукес В.Г. Полиморфизм гена CYP2C9: клинико-фармакологические аспекты. Медицинская генетика. Т. 4. No3. 2005. с. 98- 102.
Сычев Д.А., Кукес В.Г.(Ред). Клиническая фармакогенетика. М.: ГЭОТАР- МЕД. 2007.
Реброва О.Ю. Статистический анализ медицинских данных. Применение пакета прикладных программ Statistica - М., Медисфера, 2006. - 312 с.
Сиволоб А.В., Рушковський С.Р., Кир'яченко С.С. та ін., Сиволоб А.В (Ред.) Генетика. К.: Видавничо-поліграфічний центр "Київський універси-тет", 2008. – 320 с. SBN 975-966-439-108-2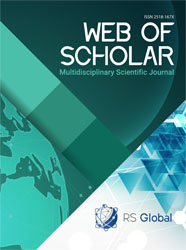 Citations
How to Cite
Панібратюк Ольга Анатоліївна, & Яковлева Ольга Олександрівна. (2020). ВИЗНАЧЕННЯ ГЕНЕТИЧНОГО ПОЛІМОРФІЗМУ CYP2C9 НА ТЛІ ПРИЗНАЧЕННЯ ВАРФАРИНУ У ПАЦІЄНТІВ НА ІШЕМІЧНУ ХВОРОБУ СЕРЦЯ, УСКЛАДНЕНУ ПОСТІЙНОЮ ФОРМОЮ ФІБРИЛЯЦІЇ ПЕРЕДСЕРДЬ. International Academy Journal Web of Scholar, (1(43), 40-42. https://doi.org/10.31435/rsglobal_wos/31012020/6888
Copyright (c) 2020 The authors
This work is licensed under a Creative Commons Attribution 4.0 International License.
All articles are published in open-access and licensed under a Creative Commons Attribution 4.0 International License (CC BY 4.0). Hence, authors retain copyright to the content of the articles.
CC BY 4.0 License allows content to be copied, adapted, displayed, distributed, re-published or otherwise re-used for any purpose including for adaptation and commercial use provided the content is attributed.
Share