МЕХАНІЗМИ ІНТЕЛЕКТУАЛЬНОГО ЗАБЕЗПЕЧЕННЯ ПОЛІТИКИ НАЦІОНАЛЬНОЇ БЕЗПЕКИ УКРАЇНИ: ЗМІСТ ТА СТРУКТУРА
Марутян Р. Р.

К.і.н, доцент, Україна, м. Київ, НАДУ при Президентові України доцент кафедри глобалістики, євроінтеграції та управління національною безпекою

https://orcid.org/0000-0001-9184-1590
Keywords:
mechanisms of intellectual support, public administration, state control, civil society
Abstract
The article examines the nature and components of the mechanisms of intellectual support of the national security policy of Ukraine, which includes the ideological and value, normative and legal, institutional, organizational and functional mechanisms; it is proved that disclosure of the content of these mechanisms in the conditions of hybrid warfare allows to formulate the priorities of the state policy on the development of intellectual resources of the national security sphere; The subjects of the system of control over the national security policy are analyzed, among which are the state control, the control of the executive authorities and the public control. All types of this contra are carried out using the intellectual resources of the state and society through the activities of subjects of intellectual security of national security of Ukraine.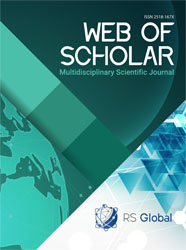 Citations
How to Cite
Марутян Р. Р. (2020). МЕХАНІЗМИ ІНТЕЛЕКТУАЛЬНОГО ЗАБЕЗПЕЧЕННЯ ПОЛІТИКИ НАЦІОНАЛЬНОЇ БЕЗПЕКИ УКРАЇНИ: ЗМІСТ ТА СТРУКТУРА. International Academy Journal Web of Scholar, (1(43), 26-31. https://doi.org/10.31435/rsglobal_wos/31012020/6883
Section
Public Administration
Copyright (c) 2020 The author
This work is licensed under a Creative Commons Attribution 4.0 International License.
All articles are published in open-access and licensed under a Creative Commons Attribution 4.0 International License (CC BY 4.0). Hence, authors retain copyright to the content of the articles.
CC BY 4.0 License allows content to be copied, adapted, displayed, distributed, re-published or otherwise re-used for any purpose including for adaptation and commercial use provided the content is attributed.