ЗАСТОСУВАННЯ ТЕХНОЛОГІЙ ІНКЛЮЗИВНОЇ ОСВІТИ ЯК ЗАСІБ СТВОРЕННЯ БЕЗБАР'ЄРНОГО НАВЧАННЯ ДІТЕЙ З ОСОБЛИВИМИ ОСВІТНІМИ ПОТРЕБАМИ
Нагорна О. В.

Україна, Кропивницький, Центральноукраїнський державний педагогічний університет імені Володимира Винниченка
Keywords:
technological culture, technological culture of a specialist, inclusive educational institution, components of technological culture
Abstract
Today, one of the priorities of the Ukrainian state policy in the field of education is the creation of a universal barrier-free environment, barrier- free education, which makes it impossible to ensure the full inclusion of children with special educational needs in the educational process. The current situation in the modern education system is characterized by processes of modernization in all its structural components in particular it concerns educational standards, educational programs, principles of interaction of participants of the educational process, principles of organization of the educational environment, etc. The basis of inclusive education is to take into account the individual characteristics of children, the diversity of their educational needs, opportunities, and interests. Therefore, there is a need to change working methods, forms and technologies.
References
Аніськин В. М. Технологічна культура майбутнього вчителя як категорія дидактики // Вісник ОДУ.-2003-No4.
Симоненко В.Д. Основи технологічної культури / В.Д. Симоненко. –М.: Вентана-Графф, 1998. – С.51.
Коваленко А.В. Технологічна культура майбутніх учителів іноземної мови / А.В. Коваленко // Вища освіта сьогодні. -2008. -No3.-С.75-79.
Лола В.Г. Генеза поняття "техногологічна культура" //Педагогіка і психологія формування творчої особистості: проблеми і пошуки: Зб.наук.пр. - Київ-Запоріжжя: ЗОІППО, 2002. - Вип.22. - С. 99-102.
Колупаєва А.А. Діти з особливими потребами та організація їх навчання / А.А. Колупаєва, Л.О. Савчук – К.: «АТОПОЛ» – 2011. – 273 с.
Основи інклюзивної освіти: навч.-метод. посіб. / за заг. ред. А. А. Колупаєвої. – К. : А. С. К., 2012. – 308 с.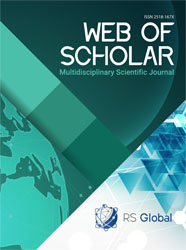 Citations
How to Cite
Нагорна О. В. (2020). ЗАСТОСУВАННЯ ТЕХНОЛОГІЙ ІНКЛЮЗИВНОЇ ОСВІТИ ЯК ЗАСІБ СТВОРЕННЯ БЕЗБАР'ЄРНОГО НАВЧАННЯ ДІТЕЙ З ОСОБЛИВИМИ ОСВІТНІМИ ПОТРЕБАМИ. International Academy Journal Web of Scholar, (1(43), 3-6. https://doi.org/10.31435/rsglobal_wos/31012020/6879
Copyright (c) 2020 The author
This work is licensed under a Creative Commons Attribution 4.0 International License.
All articles are published in open-access and licensed under a Creative Commons Attribution 4.0 International License (CC BY 4.0). Hence, authors retain copyright to the content of the articles.
CC BY 4.0 License allows content to be copied, adapted, displayed, distributed, re-published or otherwise re-used for any purpose including for adaptation and commercial use provided the content is attributed.
Share